What was so exciting about speaking at the ADI conference in Greece (Alzheimer's Disease International)—in addition to the programs and the vibrant city of Thessaloniki—was the opportunity to talk with other participants and hear about AD programs throughout the world.  I spoke with people from Iran, the Netherlands, Israel, New Zealand, Australia, Puerto Rico, Ireland, the UK and many other countries.   The interactions were inspiring, particularly since there's attention being paid globally to AD that we in the U.S. can emulate.
And, speaking of inspiring, there is a television commercial from the U.K. that has wowed me.  It's very simple—just a single dementia patient standing against a white background and talking about having—and living—with AD.  The message is: don't run away from me, or fear me, when I tell you I have dementia.  I'm a real person, with thoughts and feelings, and here I am.  Why don't we have similar spots in the U.S.?  I'm going to be asking that question of influential people in the field when I get back to the U.S.
I was thrilled with the response to my photographs and my book I Still Do: Loving and Living with Alzheimer's.  My presentation centered around my experiences caring for my husband, Ed, and the power of art to help people understand viscerally, and to relate to, those experiences and to connect with my husband's story.  By extension, viewers and readers understand better the layers of the AD journey.
In the meantime, I'm enjoying the friendly people of Greece and will share some photographs when I get home.
I just came back from five days in San Francisco, where I went to attend the opening of an exhibition of my work I Still Do and Sea of Dreams.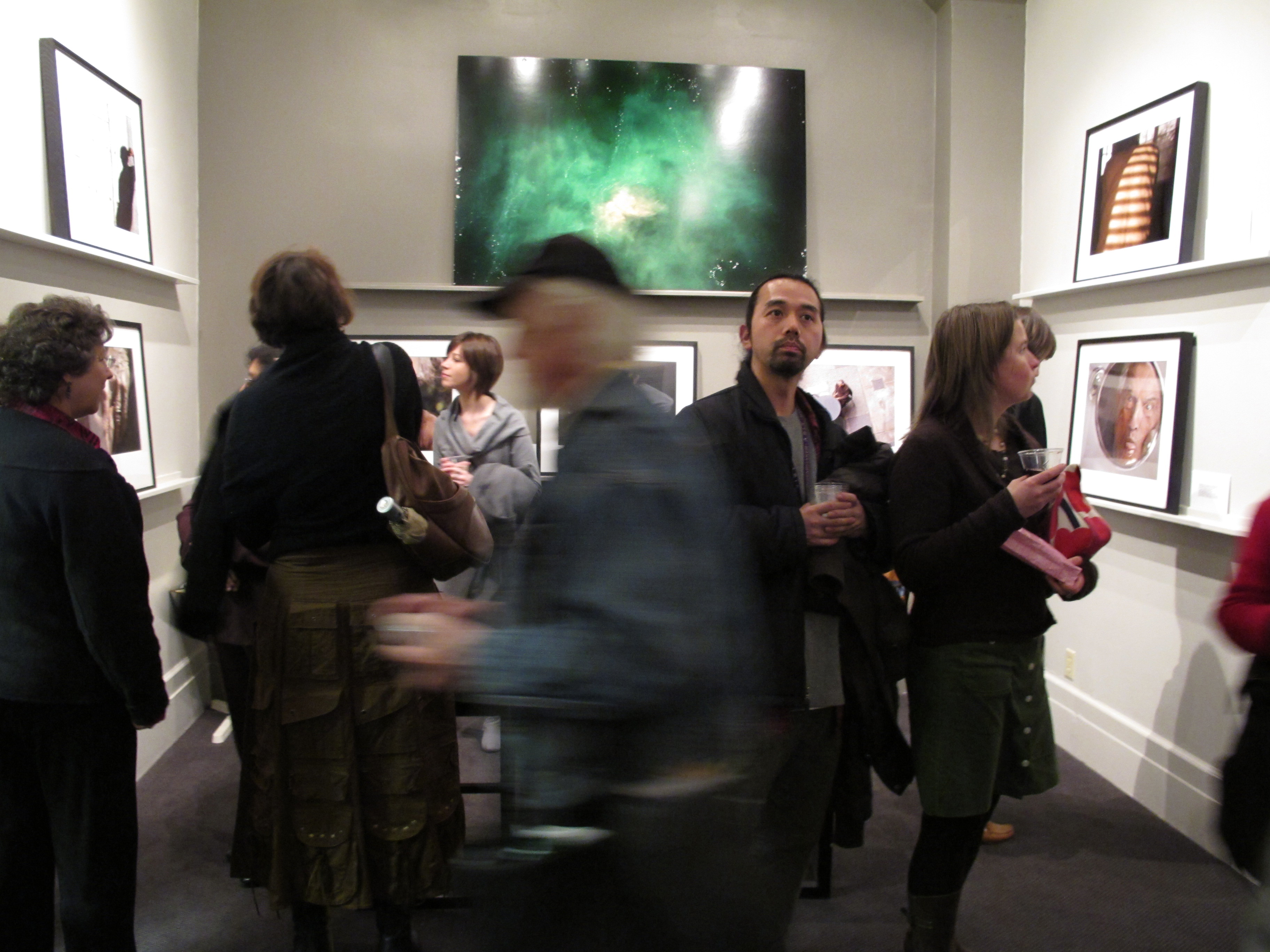 Here's a review of the show by Robert Cortlandt:
Next on to Fifty Crows in their new space (which personally I found rather dark) . They're showing Judith Fox's new work I Still Do. An exceptionally moving show of photographs about her husband as he struggles with Alzheimer's. It is a very intimate and personal look. One thing about documentary photography, for me at least, is that struggle for access where I am reaching for the intimate. She seems to have achieved that fine line of revelation that doesn't feel like intrusion. The feeling in her book is exactly what I want to achieve in my doc. projects.  
I'm attaching a few photographs from the trip and from the show.  I also want to share with you a photograph I took at the lovely Yerba Buena Park on the one day it didn't rain.
We are lonesome animals. We spend all our life trying to be less lonesome. One of our ancient methods is to tell a story begging the listener to say — and to feel — "Yes, that's the way it is, or at least that's the way I feel it. You're not as alone as you thought."
—John Steinbeck.
My husband was diagnosed with Alzheimer's disease eleven years ago—the stigma and misinformation surrounding Alzheimer's weighed us down as  we began learning to live with it.   We were helped by talking with others who were traveling with us on this journey none of us ever wanted to take.   We benefited from each other's stories and we were warmed by our connections.
One of the reasons I created the book I Still Do … Loving and Living With Alzheimer's, was to contribute to the discussion we—as individuals and as a society—must have in order to clear the clouds of fear and whispers surrounding this disease. I am telling my story so that someone else will be more comfortable telling their own.
I'd like to ask you to expand the conversation surrounding Alzheimer's by telling your story here.  I believe that everyone who chooses to be a caregiver is made of special stuff, and I'm interested in knowing who you are, why you chose to take on such a challenging role and how it's changing your life.  It's a story only you can tell.
Ultimately, this site is yours and you will decide what you want from it.   But—for my part—I'd like this to be a place where stories are shared.
This is the story behind the creation of my book I Still Do:
My life was upended in 1998 when my husband, Ed, was diagnosed with Alzheimer's. We had been married for three years. I was recently widowed and he was divorced when I fell in love with this accomplished man who ate the right foods, exercised and completed his crossword puzzles in ink. There was no history of the disease in Ed's family, but Alzheimer's doesn't play favorites and it doesn't play fair.
The future, as we had planned it, wasn't going to happen.
For a couple of years after receiving Ed's diagnosis, we evaded reality and denied growing evidence of the illness. It was true that Ed had trouble with his memory. He didn't track conversations the way he used to and he was sometimes uncharacteristically irritable. At the same time, he also avidly read his medical journals, became an active partner in a start-up business, and played tournament golf—amazingly sinking his third and fourth holes-in-one.
 Searching for answers, I bought a stack of books on Alzheimer's. It took me two years to open the first one.
 During this period, I was actively involved in making, exhibiting and selling fine art photographs. I focused my eyes and my camera on strangers and, occasionally, took superficial snapshots of the man I love. I've always seen things more clearly through my camera lens, and I wasn't ready to confront—to literally zoom in on—what was happening to Ed.
 Eventually, the dancing and the denial stopped. I began making photographs of my husband, my friend, my lover, and muse. I photograph Ed to remember him, to celebrate him and to keep him close as he's leaving.
Ed's support, encouragement, and partnership as we worked together on what started as a photography project and ended as a book,  resulted in a great gift to me—personally and professionally—but I ache because we can no longer share the results of this special collaboration.  Ed's Alzheimer's has progressed to the point where he has severe visual agnosia and his brain no longer makes sense of what his eyes see.   Photographs and written words hold no meaning for him.  And he's forgotten that we created a book—together.